Nomination for BNG WorkSpace Project Prize 2010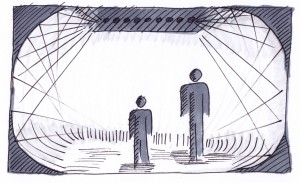 I got nominated for the BNG WorkSpace Project Prize 2010, organized by
Filmhuis Den Haag / ZAAL5
, with a project proposal for an interactive light installation named 'A Close Encounter of The First Kind' (for which i'm still seeking funding).
WORKSPACE is the annual project competition through which ZAAL5 seeks out talented filmmakers and artists working with film, new (interactive) media, video installations, performance and visuals. ZAAL5 is the in-house project space for media arts at Filmhuis Den Haag. This multifunctional room is dedicated to programmes and projects using moving images that are not displayed in regular film halls.
I was one of the 5 selected artists (out of 45 applicants) that had to pitch his or her project proposal on the 25th of april 2010, in front of a professional jury, to win one of the two available prizes of € 9000,- for the realization and presentation of the project.