Mens maakt landschap maakt mens
interactieve luisterbeleving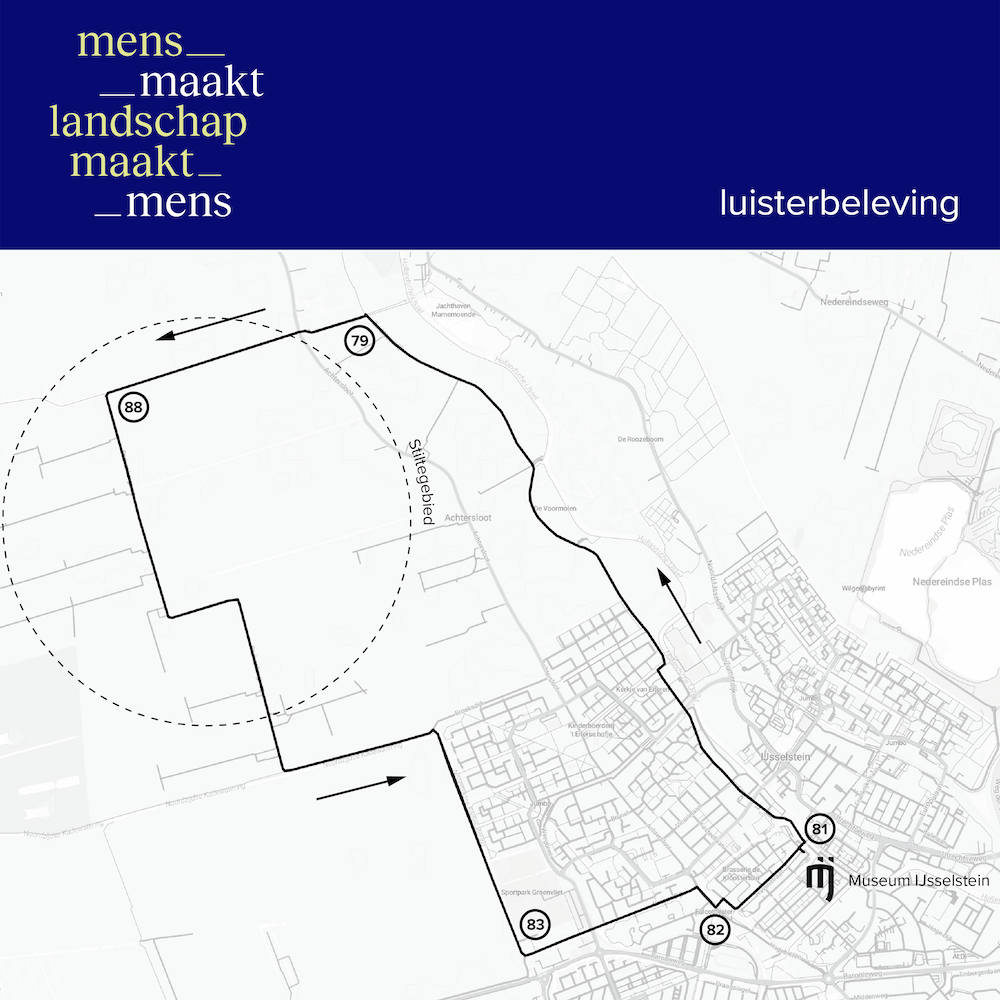 Een interactieve luisterbeleving, gebaseerd op gesprekken met kunstenaars en experts over de menselijke omgang met cultuurlandschap in verleden, heden en toekomst.
Tegen de achtergrond van soundscapes, opgenomen in diverse stiltegebieden binnen het Groene Hart, geven zij verschillende genuanceerde perspectieven op de uitdagingen die er momenteel spelen binnen het Nederlandse landschap in het algemeen, en het oercultuurlandschap van Het Groene Hart in het bijzonder.
Net zoals de oude meesters van de landschapsschilderkunst, houden ook deze hedendaagse kunstenaars de luisteraar — al fietsend of wandelend, omringd door het landschap zelf — een spiegel voor en geven stof tot nadenken. Hoe de mens dit landschap heeft gemaakt, maar misschien nog wel interessanter, hoe de omgang met het landschap van het Groene Hart door de tijden heen ook ons heeft gemaakt en onze identiteit mede heeft bepaald.
•••
Start- / eindpunt (zorg voor eigen fiets, smartphone en hoofdtelefoon!):
Museum IJsselstein
Walkade 2–4, 3401 DS IJsselstein
Openingstijden: woensdag t/m zondag van 13.00 tot 17.00 uur
Starten buiten openingstijden? Download de app hier
Lukt fietsen of wandelen niet? Luister hieronder naar de offline versie (bij voorkeur met goede hoofdtelefoon)
Dit project is onderdeel van een langer lopend artistiek onderzoeksproject getiteld mens maakt landschap maakt mens, over de wederkerige relatie tussen cultuurlandschap en identiteitsvorming. Zie ook de projectpagina van de tentoonstelling: mens maakt landschap maakt mens.
Kind
Interactive Soundwalk / bicycle route
Location
Museum IJsselstein and surroundings
Credits
Concept & soundscapes: Arnold Hoogerwerf
Interviews: Dennis l'Ami
Met de stemmen van:
Wumen Ghua
Niels Stomps
Arjan van 't Riet
Esther Polak
Ivar van Bekkum
Met dank aan: Amy Stenvert (Museum IJsselstein)