Mens maakt landschap maakt mens
Curatorial project
Audiovisual Installation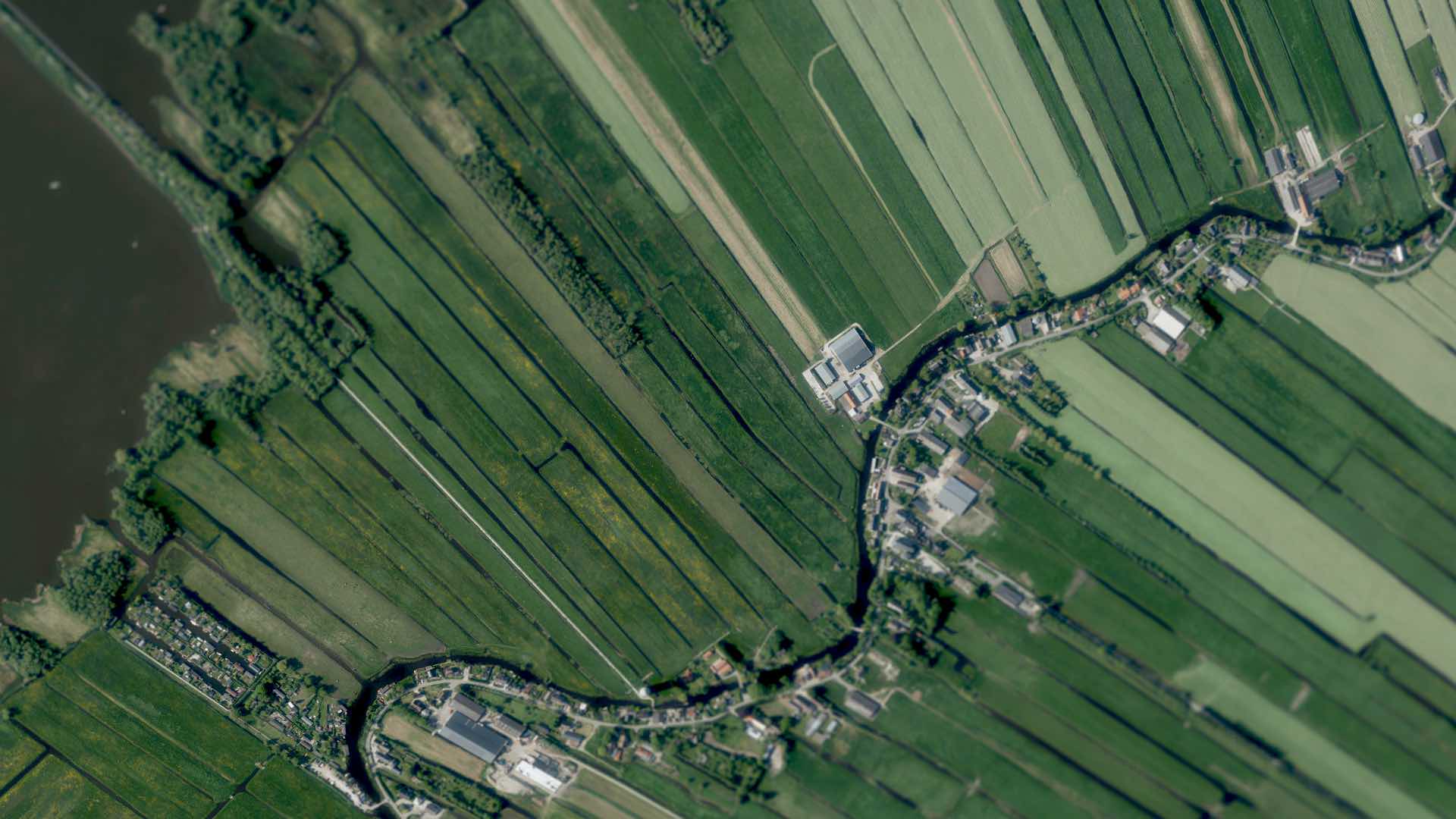 From 16 July – 25 Sep­tem­ber 2022, I am pre­sent­ing a new cura­to­r­i­al project mens maakt land­schap maakt mens at Muse­um IJs­sel­stein (MIJ). In coop­er­a­tion with inves­tiga­tive jour­nal­ist Den­nis l'Ami, this project focus­es on the his­to­ry and future of the 'Groene Hart' area in The Nether­lands, more specif­i­cal­ly on how the his­tor­i­cal devel­op­ment of this man-made land­scape has shaped a col­lec­tive iden­ti­ty. With this project, I'm mak­ing my debut as a (guest) curator.
I also cre­at­ed an audio­vi­su­al instal­la­tion espe­cial­ly for the exhi­bi­tion, con­sist­ing of high res­o­lu­tion aer­i­al imagery from the Nation­aal Geo­reg­is­ter, field record­ings and audio inter­views with all par­tic­i­pat­ing artists.
Fur­ther infor­ma­tion can be read below (in Dutch).
mens maakt land­schap maakt mens — een ten­toon­stelling over cul­tu­ur­land­schap en iden­titeitsvorm­ing in Het Groene Hart
Het Groene Hart, hét 'oer-cul­tu­ur­land­schap' van Ned­er­land. Een bak­en van rust in de drukke Rand­stad-metropool, toch? Maar het Groene Hart ver­rom­melt en brokkelt stuk­je bij beet­je af. Het voortbestaan van dit unieke lan­delijke gebied ligt door aller­lei bestu­urlijke en plan­matige ontwik­kelin­gen van de laat­ste decen­nia voort­durend onder vuur.
Wat zegt deze huidi­ge omgang met dit unieke — en in 1000 jaar zorgvuldig gevor­mde — land­schap over onszelf en onze huidi­ge iden­titeit? Deze vraag staat cen­traal bin­nen het project mens maakt land­schap maakt mens.
Open­ing: zater­dag 16 juli 2022, Muse­um IJsselstein
Over de tentoonstelling
Voor de ten­toon­stelling selecteer­den gastcu­ra­toren Den­nis l'Ami en Arnold Hooger­w­erf in samen­werk­ing met con­ser­va­tor Amy Sten­vert van Muse­um IJs­sel­stein een reeks werken van gerenom­meerde heden­daagse kun­ste­naars en fotografen. Een aan­tal van hen maakt spe­ci­aal voor deze ten­toon­stelling nieuw werk. Zij sprak­en daar­naast met diverse experts en inte­greerde die ken­nis in het project. Zodoende benadert mens maakt land­schap maakt mens het Groene Hart-vraagstuk vanu­it ver­schil­lende inval­shoeken: kun­st, weten­schap, archief­ma­te­ri­aal, ruimtelijke orden­ing en planolo­gie. De ten­toon­stellings­mak­ers nodi­gen bezoek­ers en andere geïn­ter­esseer­den uit om zich onder te dom­pe­len in deze per­spec­tieven, om mee te denken en in gesprek te gaan over de toekomst van het Groene Hart.
De ten­toon­stelling is tussen 16 juli en 25 sep­tem­ber 2022 te zien bij Muse­um IJs­sel­stein, deels in het muse­um en deels als buiten­ex­posi­tie in het Kro­nen­burg­plantsoen. Het project omvat naast de ten­toon­stelling een rand­pro­gram­ma bestaande uit lezin­gen, een 'dialoogdin­er' en wan­delin­gen. Het is de eerste pub­lieke man­i­fes­ta­tie van een langer lopend onder­zoek­spro­ject, waarin onder­zoek­sjour­nal­ist l'Ami en inter­dis­ci­plinair kun­ste­naar Hooger­w­erf onder dezelfde noe­mer de wed­erk­erige relatie tussen cul­tu­ur­land­schap en iden­titeitsvorm­ing onderzoeken.
Aan deze ten­toon­stelling werken mee:
Den­nis l'A­mi en Arnold Hooger­w­erf, Wumen Ghua, Polak­Van­Bekkum en Niels Stomps. Verder is er werk te zien van Jeroen Jon­geleen, Ellen Kooi, Jannes Lin­ders, Inge Mei­jer, De Onkruide­nier en Rudi van de Wint.
Daar­naast te zien: een selec­tie unieke his­torische foto's uit de ver­schil­lende streekarchieven bin­nen Het Groene Hart.
Muse­um IJsselstein
Muse­um IJs­sel­stein (MIJ) is een klein muse­um dat ten­toon­stellin­gen ron­dom grote thema's pro­gram­meert. Actuele vraagstukken uit de samen­lev­ing benadert MIJ vanu­it de beeldende kun­st, met de inten­tie bezoek­ers te ver­won­deren, hen uit te nodi­gen de breedte en de diepte in te dur­ven gaan. Recente ten­toon­stellin­gen waren onder meer Gen­dervrij bij MIJ (2018), Ongetemd | toekom­st­beelden van mens en natu­ur (2020), Empathie | Geen mens is een eiland (2020–2021) en Ver­wantschap (over de invloed van afkomst op iden­titeit, 2022).
Bezoekadres: Walka­de 2–4, 3401 DS IJsselstein
www.museumijsselstein.nl
Tele­foon 030 — 688 6800
Open­ingsti­j­den muse­um: woens­dag t/m zondag van 13.00 tot 17.00 uur
Kind
Exhi­bi­tion design / curation
Audio­vi­su­al Installation
Location
Muse­um IJs­sel­stein (MIJ)
More information
Video item MIJ Online: